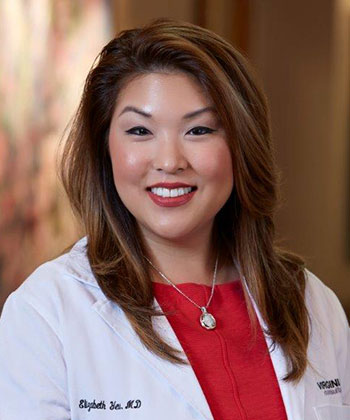 Elizabeth Yeu
October 1, 2020
Dr. Yeu earned her medical degree through an accelerated program at the University of Florida College of Medicine that combined undergraduate education and medical school. She completed her Ophthalmology residency at Rush University Medical Center in Chicago, where she served as Chief Resident. Dr. Yeu continued to the Cullen Eye Institute, Baylor College of Medicine to complete a Fellowship in Cornea, Anterior Segment and Refractive Surgery, where she was an Assistant Professor after her fellowship training. Dr. Yeu joined Virginia Eye Consultants in 2013, and also continues her commitment to residency training in Ophthalmology as an Assistant professor at the Eastern Virginia Medical School.
Dr. Yeu provides guidance and governance across several national medical boards and committees, including an examiner for the American Board of Ophthalmology, current Chair of the Young Eye Surgeons (YES) Committee of the American Society of Cataract and Refractive Surgery (ASCRS), and as a Communications Secretariat for the American Ophthalmology (AAO).
Dr. Yeu has authored numerous articles and is a frequent lecturer in the areas of refractive cataract surgery, anterior segment reconstruction, ocular surface disease management and surgical management of astigmatism. She is the incoming editor-In-chief of U.S. Ophthalmic Review and serves as the medical editor of the digital journal, Millennial Eye. Dr. Yeu was awarded The Ophthalmologist's global Top 40 Under 40 honors in 2015, and more recently recognized as Top 40 Under 40 through Virginia's Inside Business Journal.