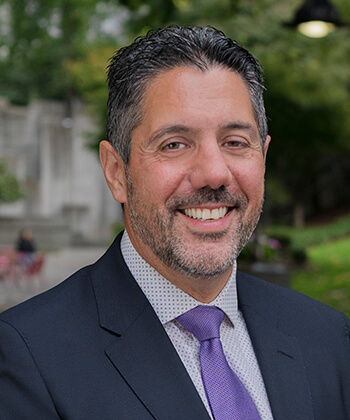 Bernie Iliakis
October 1, 2020
As President and CEO of CorneaGen, Bernie is responsible for all aspects of the tissue services organization. Over his career, he has been responsible for the distribution of more than 150,000 sight restoring grafts to nearly 50 countries worldwide.
Bernie began his career in eye banking in 1995, when he joined SightLife as an eye bank technician. In 2003, he became the Chief Operating Officer overseeing all operations, including clinical services and quality assurance.  He transitioned to CorneaGen COO after its creation in 2016.  In early 2021, Bernie was promoted to President of the organization.
For 15 years he served on the Medical Advisory Board for the Eye Bank Association of America (EBAA), which creates and revises the medical standards that govern eye banking, and was an Inspector on the Accreditation Board for 15 years, which determines EBAA accreditation status of eye banks. In 2016, Bernie was honored by the EBAA with the Leonard Heise Award for his outstanding devotion to the field of eye banking.
Bernie has been a member of the American Association of Ophthalmology and American Society of Cataract and Refractive Surgery course faculty for Femtosecond Laser Keratoplasty.
Bernie received his master's degree in Health Administration from the University of Washington and graduated cum laude with a Bachelor of Science in Zoology, also at the UW.