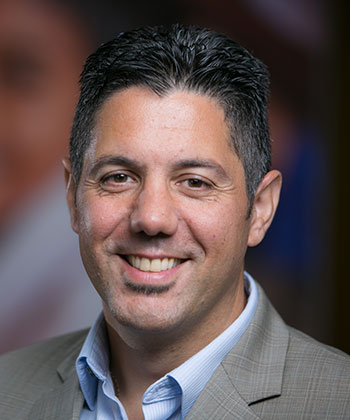 Bernie Iliakis
October 1, 2020
As President for CorneaGen, Bernie is responsible for ensuring we provide our surgeon partners with the highest quality tissue for transplantation procedures. Over his career, he has been responsible for the distribution of more than 100,000 sight restoring grafts to nearly 50 countries worldwide.
He oversees our business development efforts to drive organizational growth through partnership with other donation organizations. Additionally, Bernie is integral to developing, communicating, executing, and sustaining the organization's strategic initiatives that drive success and innovation.
Bernie began his career in eye banking in 1995, when he joined SightLife as an eye bank technician. In 2003, he was promoted to his current role as President overseeing all operations, including clinical services and quality assurance.
He serves on the Medical Advisory Board for the Eye Bank Association of America (EBAA), which creates and revises the medical standards that govern eye banking, and was a long-time Inspector on the Accreditation Board, which determines EBAA accreditation status of eye banks. In 2016, Bernie was honored by the EBAA with the Leonard Heise Award for his outstanding devotion to the field of eye banking.
Bernie is a member of the American Association of Ophthalmology and American Society of Cataract and Refractive Surgery course faculty for Femtosecond Laser Keratoplasty.
Bernie received his master's degree in Health Administration from the University of Washington and graduated cum laude with a Bachelor of Science in Zoology, also at the UW.
Recent Articles
The 2021 ASCRS Annual Meeting will now be held July...

READ MORE

Let's meet in South Carolina next spring! Kiawah Eye 2021...

READ MORE

Donate Life America and the United Network for Organ Sharing...

READ MORE