 DescePro™ System
DescePro™ System with Pre-Loaded Tan EndoGlide is an innovative technology enabling surgeons to streamline surgeries. Using DescePro, surgeons control the DMEK or DSEK donor corneal tissue unlike ever before, reducing tissue manipulation needed during the procedure, saving considerable time, and producing consistent results.
Schedule a Consultation
About the DescePro System
Designed with surgeon – and patient – in mind.
The patented DescePro infusion sleeve and micro DescePro forceps provide stability and control in allograft placement.System allows for surgeon preference of trephination and insertion technique.
The ergonomically optimized instrumentation offers intuitive ease of use and tactile feedback.
For difficult cases, DescePro's fluidic control and tissue-grasping micro forceps provide an effective solution.
Designed to work with the Pre-Loaded Tan EndoGlide for both DMEK and DSEK surgical procedures.
Schedule Your In-Service
Your CorneaGen Surgical Product Specialist is available to help ease your transition to the DescePro System. If you are a surgeon who would like to schedule an in-service for your next DMEK, please watch the instructional video below. Then please call us at (844) 526-7632 to schedule your in-service.
Please note, an in-service is required prior to initial use of the DescePro System.
Instructional Video:
DescePro is an innovative technology enabling surgeons to streamline DMEK surgeries. The following video provides a detailed overview of how the DescePro System works with step-by-step instructions. Take a moment to watch the video and give our office a call at (844) 526-7632 to schedule your in-service today.
Instructional Video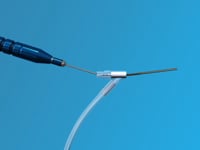 Schedule a Consultation
To order or request additional information, please complete the form:

Reimbursement
If you need assistance with reimbursement of corneal tissue, CorneaGen is pleased to provide its customers with reimbursement and medical claims assistance to help guide you in billing corneal tissue to your local Medicare carrier and other commercial insurance carriers.
Adverse Reaction Reporting
If you have had any complications occur in your recipients, we ask you please file a report with us so that we may comply with EBAA and FDA regulations.
Regulatory Information
CorneaGen's labs maintain the highest levels of quality through review by the U.S. Food and Drug Administration. For more information, please contact our Quality Assurance and Regulatory Affairs Department at (877) 682-8502.