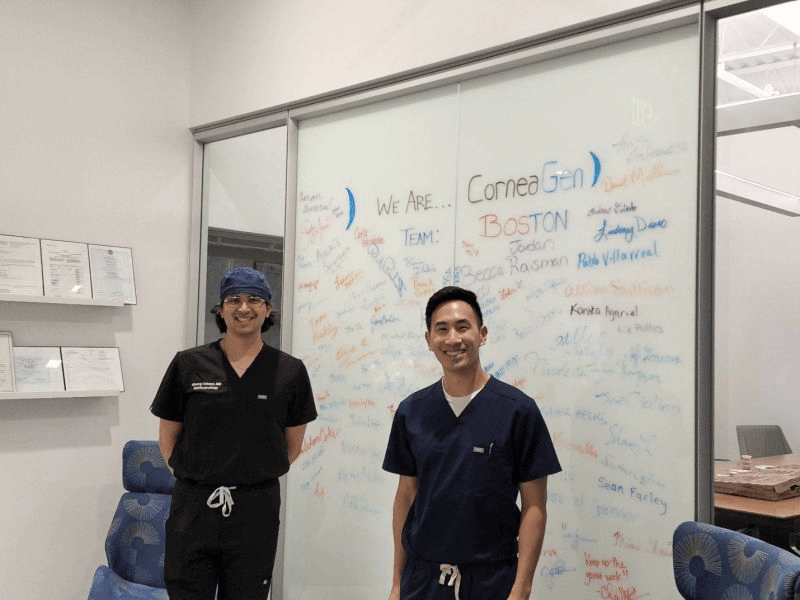 Bernie's Quarterly Update – September 2022
September 26, 2022
We approach the end of another great quarter and exciting opportunities and challenges are abound. As many of you know, we recently refined our organizational structure and refreshed our Board, continuing to leverage longstanding expertise with this group. Last month, we were happy to welcome nine doctors to our Seattle headquarters for the Eye Bank Experience Program as well as host new fellows in our Boston office for two wet labs. Getting to spend this time together, with the next generation of corneal surgeons, was invaluable. And I wanted to share the opportunity to sit down with Inside the OWL Studio and talk about diversity, equity, and inclusion at CorneaGen – it's incredibly important to keep advancing this discussion in ophthalmology.
Here are another few key moments from the last three months.
The EndoSerter-PL keeps advancing the next generation of cornea care.
Since its launch at ASCRS, the EndoSerter-PL has been used successfully in hundreds of surgeries. We've also achieved broad availability for our best-in-class insertion device, which continues to be the only FDA approved product on the market. As we get the EndoSerter-PL in the hands of more surgeons, we're encouraged by new testimonials and look forward to showcasing it at AAO. Dr. Keith Walter and Dr. Marjan Farid will be leading demonstrations on Saturday and Sunday respectively at the upcoming event, October 1-3, booth #4200.
Our team evolves…
We're sad to have to say goodbye to J.D. Osborne, but we're proud of him and everything he's accomplished at CorneaGen. J.D. has been part of the team for nearly nine years, starting as our first Surgical Product Specialist and advancing to Vice President. He has had a huge impact on the corneal transplant field, developing strong relationships with surgeons and colleagues. As a champion of our mission and vision, he remains as passionate about CorneaGen as ever. We're thrilled for him as he moves on to his new role in the ophthalmic space and glad he'll still be giving to this industry.
And the eye banking profession keeps moving as well.
There was big news out of our partner SightLife last month, as they announced a merger with Lions Eye Institute for Transplant and Research. Our relationship with SightLife is unchanged and goes forward as strong as it has always been. At the same time, many new opportunities may present themselves to improve donor supply and collaboration. We haven't scratched the surface on this yet.. On that note, one more rewarding moment from our collaboration with SightLife to share – please watch this story on a donor and recipient family coming together virtually for the first time. From recovery, to processing, to shipment, to getting donor tissue in the hands of the recipient's surgeon, the massive team effort that happens in the background all contributes to making more sight restoring impact.
So, an incredible amount has happened in recent months, and there's so much to look forward to in the quarter ahead. Change is good. We continue to move forward, making a positive difference together for corneal transplants and all the stakeholders involved.
Thank you for your attention.