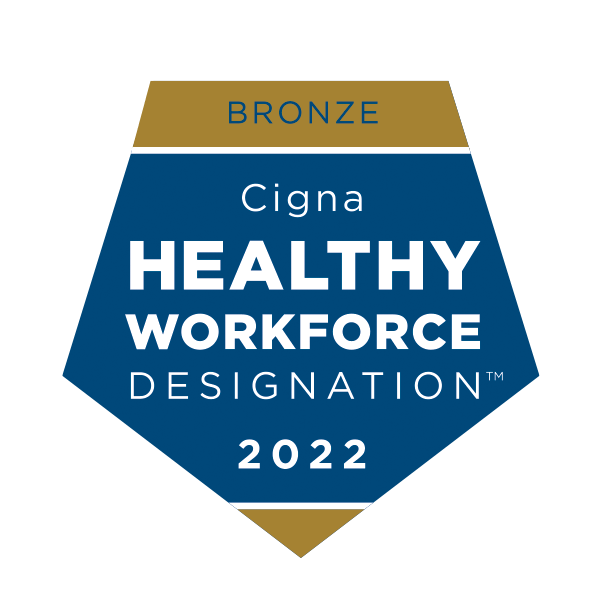 CorneaGen Recognized With Cigna Healthy Workforce Designation
March 27, 2023
Cigna has selected CorneaGen as a recipient of their Bronze level Healthy Workforce Designation for demonstrating a strong commitment to improving the health and well-being of its employees through a workplace wellness program.
"We are working closely with Cigna as we continue to build our employee well-being program here at CorneaGen, providing different forms of resources to engage all employees," said Gretchen Coker, Chief Talent Management Officer "We recognize that there are different dimensions of wellness and aim to support the well-being of our employees across these various areas. We've increased our engagement over the last year with multiple events, including  a team fitness challenge, wellness seminars, and a bi-weekly newsletter.  We look forward to increasing our efforts towards a healthier work culture."
"At CorneaGen employee health is our top priority; we are honored to be recognized with the Cigna Healthy Workforce Designation" said Gretchen.  "We understand the important role employee well-being plays in a company's success and the relationship between healthy employees contributing to a more productive, satisfied workforce and positive business performance."
Investing in an effective workplace well-being program drives value for employers. Senior executives surveyed as part of an Economist Impact study commissioned by Cigna reported greater productivity, stronger staff morale and motivation, and greater retention and loyalty as the most significant business outcomes of a healthy workforce. Additionally, a Gallup Report finds that on average, companies with high employee engagement are 23 percent more profitable.
"As a consultative growth partner, Cigna knows that a healthy workforce is critical to business growth," said Cindy Ryan, executive vice president and chief human resources officer. "We are honored to recognize organizations like CorneaGen who share our commitment to workplace wellness. Creating a healthy work culture is of critical importance, and many employers are seeing increased employee engagement, productivity, and retention as a result of whole person health wellness initiatives."
The Cigna Healthy Workforce Designation, formerly known as the Cigna Well-Being Award, evaluates organizations based on the core components of their well-being program, including leadership and culture, program foundations, program execution, and whole person health. Organizations recognized with this designation set the standard of excellence for whole-organization health. Cigna is proud to honor CorneaGen with the Bronze level designation for having made good progress towards a healthy work culture by establishing and growing their employee well-being and engagement program.